Gary Barnidge has only appeared in two episodes of Total Divas. Gary was on a date with Milena Letcia Roucka and Danielle Moinet. The episode he was in was The Double-Cross and he appeared in the episode after in which Milena discovers that Danielle has also been dating Gary. This episode was Cross Country Catastrophe.
He's an American Football Tight End for the Cleveland Browns.
Gary plays American Football.
The videos below show clips of Gary Barnidge in Total Divas.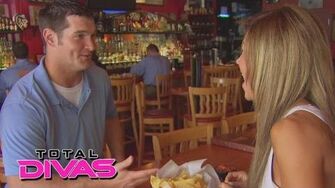 Social Media and Sites

Edit
You can follow Gary Barnidge on Social Media and websites with the links below.
Twitter - Twitter.com/@GaryBarnidge/
Facebook - Facebook.com/GaryBarnidge
NFL - NFL.com/player/garybarnidge/1060/profile
Cleveland Browns - clevelandbrowns.com/team/roster/Gary-Barnidge/888027c1-3c8e-4bc2-a336-50004354ddc5
Ad blocker interference detected!
Wikia is a free-to-use site that makes money from advertising. We have a modified experience for viewers using ad blockers

Wikia is not accessible if you've made further modifications. Remove the custom ad blocker rule(s) and the page will load as expected.